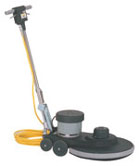 Mix one part CHEM-STRIP with 2 to 5 parts hot water.
Strip a large floor in blocks of 10'x12' at a time. Apply solution on liberally without wringing mop, a good 1/8" to 1/4" over area to be stripped. Leave solution on the floor approximately 10 minutes, keeping the floor wet, before using the floor machine.
Strip floor using black stripping pad with floor machine. Strip left to right one row of tile at a time. Then quickly strip vertically or at right angles the same area.
Use a wet vacuum to vacuum up solution.
Immediately rinse with clear water with a cup of vinegar added and mop behind the wet vacuum.
When the whole floor has been through steps #1-5, then rinse 2 more times. THIS IS THE MOST IMPORTANT STEP.
Wait until floor is completely dry to finish. Use a freshly laundered mop or new mop for applying POLYKOTE FLOOR FINISH. Pour POLYKOTE into mop bucket on top of the damp. Damp mop the POLYKOTE on the floor in thin but even strokes.

For a protecting finish with a good shine, apply 3 or 4 coats. If the "wet look" shine is desired apply 7 or 8 coats of finish. Allow 10-20 minutes between coats. First coat or two will act as your sealer. Drying time depends on ventilation, temperature and humidity. On humid days, use a wind blower or turn the air conditioner on to take the humidity out and aide the drying time between coats. POLYKOTE will dry to a shine and does not need to be buffed when first applied. Buffing may be desired to maintain shine in weeks and months to follow.




KEEPING THE "WET LOOK" - (BUFFING)


Now that your floor has dried to a beautiful gloss, keeping it looking that way is the challenge. Placing mats on both sides of all outside doorways is most important.


Sweep the floor often. Grit acts as sandpaper on finishes.
Mop daily with cool water mixed with mild, highly diluted cleaners. Do not use ammonia, bleach, or strong cleaners.
Dilute POLYTREAT 1000 1-part to 4-parts water and mop on the floor. Let dry to a haze. (POLYTREAT 1000 can also be sprayed and buffed.)
Place a "hog hair" blend on pad on the 1500 rpm buffer. Walk slowly letting the buffer glide on the floor. The heat reactive POLYTREAT 1000 will glass and fill scratches, restoring the "wet look".